FACCE ERA-GAS is the ERA-NET Cofund for monitoring & mitigation of Greenhouse gases from agri- and silvi-culture. The aim of ERA-GAS is to strengthen the transnational coordination of research programmes and provide added value to research and innovation on greenhouse gas (GHG) mitigation in the European Research Area. ERA-GAS is initiated by the Joint Programming Initiative on Agriculture, Food Security and Climate Change (FACCE-JPI).
---
Upcoming events
Kick-off of the ERA-GAS, SusAn and ICT-AGRI joint call research projects on 18 November.
On the 17th and 18th of November a virtual project seminar is organized by ERA-NET SusAn. The 14 transnational projects of the co-funded call of the ERA-NET on Sustainable Animal Production Systems (SusAn) started their work in 2017 to achieve new insights for the field of sustainable animal production taking into account a system and interdisciplinary approach. Two years after this main activity of SusAN, the network organized a joint call together with the ERA-NET for monitoring & mitigation of Greenhouse gases from agri- and silvi-culture (FACCE ERA-GAS) and the ERA-NET on ICT and robotics for sustainable agriculture (ICT AGRI 2). The 8 projects from this call started in the last year.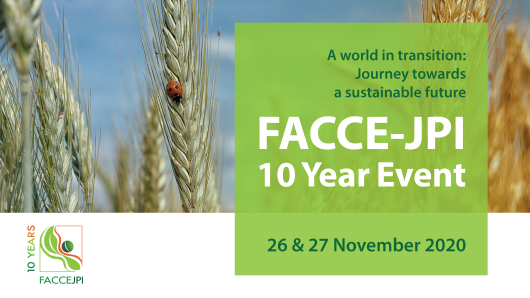 FACCE-JPI 10 Year Event "A world in transition: Journey towards a sustainable future" on 26 and 27 November
FACCE ERA-GAS funded project of the 2016 Joint Call METHLAB will give a presentation as one of the highlighted science projects.
More information and registration on the FACCE-JPI website.
---
---
News
---
---
Twitter
---
Unfortunately, your cookie settings do not allow the social media element to be displayed. check your settings.