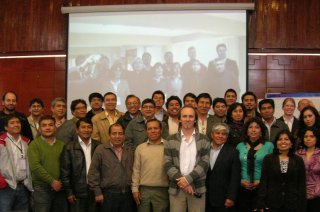 Project
International course - Anaerobic treatment of domestic and industrial wastewaters
Steps are being taken in Peru to improve the situation with regard to domestic and industrial wastewater treatment. Recently new laws and discharge limits were implemented for this purpose. Anaerobic treatment is one of the technologies that could be successfully implemented in several areas in Peru as a key tool.
In 2008 a course on anaerobic wastewater treatment was held in Lima, organised by Rosa Elena Yaya Beas, in which Jules van Lier (then working for LeAF) was involved as main lecturer. Because of the great success of that course and the increased interest in anaerobic treatment, Rosa Elena organised a follow-up involving Iemke Bisschops and Lucas Seghezzo of LeAF as lecturers next to herself. The course was held completely in Spanish.
Different groups were involved in setting up the course. It was organised by the Colegio de Ingenieros del Perú Consejo Nacional(CIP) in Lima and by LeAF. Sponsoring was provided by the Lettinga Foundation, GTZ Peru and UNITRAR. Also the Peruvian Ministry of Housing, Construction and Sanitation was involved. The course was split in two main parts. Day two till five were meant to be attended by people with a technological background. Module one, the first day, was accessible for policy makers as well.
The large hall at the main office of the Colegio de Ingenieros del Perú (CIP) in Lima served as course venue. A second group of participants was involved through a two-way video link with the CIP office in Arequipa. Throughout the course a cameraman filmed the screen where the presentations were projected and/or the instructors. Sound was transmitted both ways as well, allowing the group in Arequipa to interact with the main location in Lima. Lunch and coffee breaks were provided on site. An optional field visit to the UNITRAR treatment plant at Lima's National Engineering University was included on the Saturday after the course. This plant includes a UASB reactor with a lagoon post treatment system. In total there were 44 participants in Lima, and another 13 in Arequipa.

Contact person

Project website
http://www.bvsde.paho.org/notici/cursoanaerobio2010.pdf
Dissemination / dossiers
Anaerobic course held in Lima, Peru. LeAF Letter Number 13, December 2010
Locations
Colegio de Ingenieros del Perú, Consejo Nacional (CIP), Lima, Peru.
Exact address / location for marker

Avenida Arequipa 4947, Miraflores, Lima, Peru.